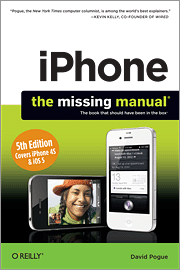 iPhone: The Missing Manual, by David Pogue purports to be the book that should have been issued with the phone. Per the description, this phone comes with everthing," cellphone, iPod, Internet, camcorder".... everything except a manual.
This is the manual they should have crafted.
As a web marketing communications company, it's important to stay on top of changes in mobile marketing, and understanding the iPhone is part of the territory. So, I think of myself as pretty savvy when it comes to iPhones, Androids, iPads, PC's, Macs and new technology.
When I started to review iPhone: The Missing Manual, I thought it would be another situation where I knew more information than the writer. After all, I've had 4 different generations of iPhones, and recently upgraded to the iPhone 4s on the day it was released. I'm definitely hooked on the iPhone, and would consider myself a heavy user, so what would a "missing manual" tell me that i wouldn't already know?
I was pleasantly surprised with the depth and scope of information in the manual. Certainly, a novice would learn a ton of new tricks, but this book had some new tricks for this old dog too! First, the author shares information in a style that is easy to read and conversational. It's a pleasure to read, and it feels like you are sharing a conversation with a friend who knows more about a subject because he really likes the subject matter. I started skimming the book, but found myself becoming more and more engrossed - and learning those little tidbits that may have escaped me. For example, the author shares the 'window wiper' and how to lower it or raise it to see the updates and notifications. I knew it was there, but I thought when I opened the phone, it went away unless I went to the app. I now learned that the notification screen can be accessed like a window shade! Ok - so that may not seem like a huge revelation, however, tips and tricks like that can make the phone a lot more functional!
One of the reasons I'm so intrigued with the iPhone is that it makes it easy to access the web. As more and more people are visiting websites on their mobile phone, technology has transformed the cell phone into a mini laptop. Most of the functions that I use the iPhone for have little to do with the phone function!
All in all, even for those who are old pros with the iPhone, I'd recommend picking up a copy of this book to learn about those features you may have missed. This is not an Apple publication because Pogue does allude to hacks and jailbreaking, so it tends to have more credibilty than a sales piece of fluff.
Please note: I received a complimentary copy of this book for review purposes.