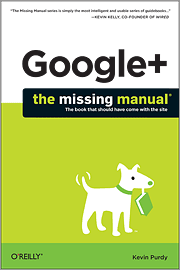 Whenever an author attempts to capture the essence of an evolving and new social media site, like Google+, it's like the 3 blind men trying to define the elephant. Each has a grasp of part of the beast, but you would need to have all the pieces to have a good idea what the animal is like in it's entirety. That being said, Kevin Purdy, author of "Google+: The Missing Manual" published by O'Reilly Media does a decent job explaining the very basics of the service, however Google+ has clearly evolved with changes since the manuscript was published.
In fairness, the author does suggest that Google+ is in the process of changing and the reality is those changes have happened fast and furious and continue to happen. The book does a fair job describing the rudiments of Google+ to an uninitiated social media neophyte, but is not a manual for someone who is immersed in the social media environment.
What I like about the book is that it clearly shares the basic aspects of how to navigate through Google+. Some of the features, like Hangouts are new features sets that are breaking ground vis a vis other social platforms such as Facebook. For a person who has no experience in video capture, it may be helpful to be reminded to have good lighting or that the background will be in view - personally I found many of the sections to be filler info - very basic.
Originally I was interested in reading Google+:The Missing Manual because even though I am utilizing social media daily on behalf of clients, I figure there are always new tricks and twists that I may have missed. I can share that there were none that I wasn't already aware of, which was personally disappointing, but I may not be reflective of the typical person who would look for a book like this to guide their discovery of the feature set within Google+.
On a whole, I'd recommend this book to a person who is new to social media.
NOTE: I received a digital version of this book for review purposes.