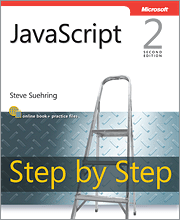 Javascript is a popular language that's used on many websites to make images and items interactive. A basic understanding of Javascript is important for anyone who wants to develop websites and who works on the Internet. That was why I was particulary intrigued with a beginner book entitled Javascript Step by Step, by Steve Suehring, published by O'Reilly Media.
The book is well written and serves as an excellent introduction to Javascript. While programming can be a bit confusing to a non-programmer, the book was clear in it's explanations of concepts and terminology. If you already work with code, this may not be as advanced as you are looking for, and if you work on a Mac, you may be a bit frustrated with the Windows orientation to the copy but taking the fact that it's a Microsoft based book, there are still some excellent nuggets of information.
There were a few examples that may not be standards compliant in the book, and in most instances the author does identify these. I did like the fact that the author also referenced Eclipse (open source) and made an attempt at crossing the non-Microsoft divide, although the book is really geared more to a Windows environment.
The book does have an introduction to AJAX and JQuery, but it's not an in depth tutorial. That said, it is a valuable tool to learn what is available and where you may want to identify areas to learn more in another guide.
Overall, a good tool for those who want to learn more about Javascript and who would benefit from the step by step approach. If you are new to Javascript, this is an easy to understand read that will help you get started with some practice examples. I am confident recommending this book more for Windows users than Mac users, but both will benefit if using the book as an introduction.
NOTE: I received an electronic copy of this book for evaluation purposes.
To learn more about Javascript Step By Step, visit the O'Reilly catalogue page.